iASPIRE EASY Functional Skills classes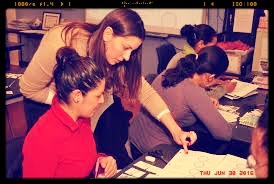 What are Functional Skills?
Functional Skills are the essential skills needed for ENGLISH, MATHS and ICT, vital for young people and adults to participate in life, learning and work. Functional Skills feature in most educational and training choices. Functional Skills are qualifications that have been developed by the UK Government as part of an initiative to improve the country's literacy, numeracy and ICT. Functional Skills are practical skills in English, Maths and ICT for all learners aged 14 and above. Functional Skills provide an individual with essential knowledge, skills and understanding that will enable them to operate confidently, effectively and independently in life and work.
We teach the learning tools that enable students to:
apply their knowledge and understanding to everyday life
engage competently and confidently with others
solve problems in both familiar and unfamiliar situations
develop personally and professionally as positive citizens who can actively contribute to society.
Expert knowledge and experience
At the Aspire Academy and Tuition, teachers and support staff have extensive knowledge and practical experience of functional skills, from Entry Level 1 to Level 2. We teach our students to achieve and pass functional skills at all levels, either as a standalone, a pathway or preparatory qualification to GCSE.
Easy FUNCTIONAL SKILLS MATHS AND ENGLISH

ADULTS CLASSES AND TIMES
Monday and Tuesday
Functional Skills
EL1, EL2, EL3
English & Maths
10.30 am to 12.00 noon and
12.30 pm to 14.00 pm

Wednesday and Thursday
Functional skills
EL3, L1 & L2 Maths
10.30 am to 12.00 noon and
12.30 pm to 14.00 pm
To view our current timetable, please click here.

Prepare yourself, revise, review and recall to remember all the important skills you need for a successful Functional Skills qualification.
Buy all your study materials and resources through us, online...Click on the books below to find out how...